Proper Husband isn't really a
Jack Spade
kind of guy. He values design and utility, but I promise you that he would rather spend $500 on a Microsoft Surface than a laptop bag.
I mean, right?
However, because I am a
Kate Spade
kind of girl, I was perusing Jack Spade's holiday offerings, just because. In doing so, I stumbled across this little etiquette-licious stocking stuffer. They are called "
Tie Breaker Coins
." Here is what both sides say: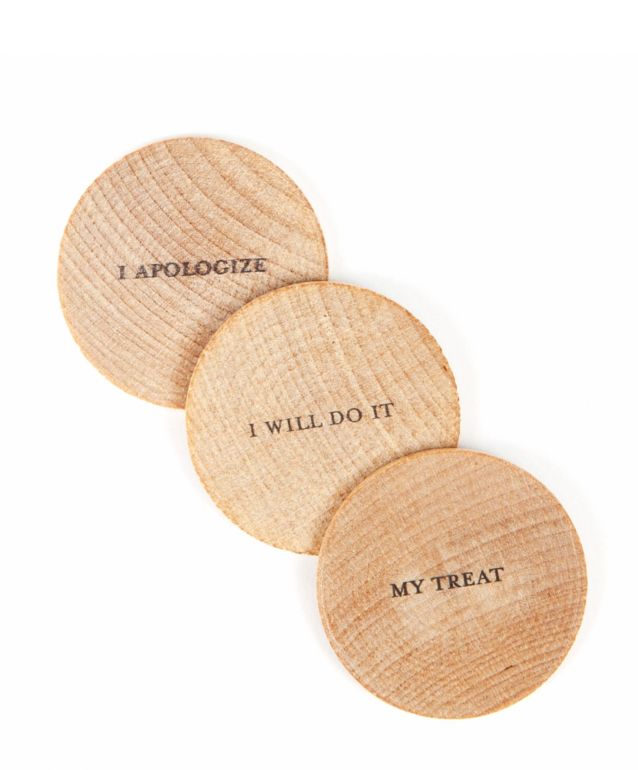 You lose with this side. In a sense.
This would be "heads." Because you don't have to apologize. In theory.
I think that's funny. But I think it's funny in that weird way when it's Time to Christmas shop and Starbucks breaks out the RED CUPS! and it's time to BUY ALL THE THINGS! Sure, they're only $15. But you do realize that's 3 lattes at Starbucks, right? Or like, a shirt at Target? Either of which is a lot more fun than having someone pull out a coin to tell you that you're paying for drinks tonight.
And so, as I struggle to keep my Christmas shopping/consumer/realist head above water, I have to say this: If I were having a disagreement with someone and they pulled out a wooden coin to decide who was going to apologize, I would want to say ridiculously argumentative things and apologize even less.
Is that just my Irish temperament? Not sure. Anyway, no spoiler alerts here -- not buying these for Proper Husband. But I did have to share.
Um, that said, how is your Christmas shopping going?
Hope your day does not have flipping coins in it.
Ta ta for now,
Proper Paige
PS: Hey also, how awesome is this? I can't help it. I really am a Kate Spade kind of gal.